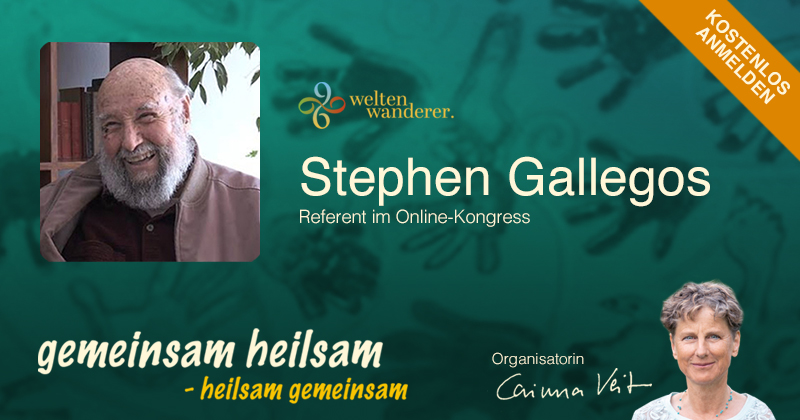 Die innere Dimension von Gemeinschaft
Inner dimension to community
Wenn Dir das Interview gefallen hat, informiere bitte Deine Freunde in den Sozialen Netzwerken. Danke.

Eligio Stephen Gallegos, Ph.D
 Begründer "The Personal Totem Pole Process®", USA
Deutsche Übersetzung und Stimme: Margrit Jütte. juette-text.de

Tiefenimagination als Möglichkeit, getrennte innere Anteile – oder verschiedene Lebendigkeiten - wieder ins Gleichgewicht miteinander zu bringen
wie uns unsere erlernten Landkarten (Glaubenssyssteme) und gegenseitige Kontrolle an einem wahrhaft respektvollen Miteinander hindern
was wirkliche Reife bedeutet
wie Wachstum passiert und dass wir für unser Wachstum immer am richtigen Ort sind
was wir von Tieren lernen können
über den Umgang mit Ungewissheit und Einsamkeit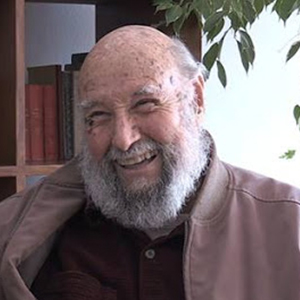 Dr. Eligio Stephen Gallegos wurde 1934 in New Mexico (USA) geboren und ist promovierter Psychologe
seine Vorfahren waren Englisch, Irisch und Native American
Von 1967 bis 1981 lehrte er an der Mercer Universität in Macon, Georgia, und arbeitete einige Jahre als Psychotherapeut in Klamath Falls, Oregon
bereits in jungen Jahren liebte Steve das Kunsthandwerk – er schnitzte gern, arbeitete mit Leder und Silber und zeichnete viel
während seiner Zeit als niedergelassener Psychotherapeut in Oregon machte er eine tiefgreifende persönliche Erfahrung, die sein Leben grundlegend veränderte. In seinem Buch The Personal Totempole Process beschreibt er die Erfahrung als spontanes Zusammentreffen mit den verschiedenen Lebendigkeiten, die in den Energiezentren (Chakren) seines Körpers wohnen. Sie zeigten sich ihm auf der Ebene der Imagination vorwiegend in Tiergestalt und es war möglich, direkt mit ihnen zu kommunizieren.
In diesem Moment verstand Steve, dass sich der Lehrer, den er sein ganzes Leben lang gesucht hatte, in seiner Imagination befand und schon immer da gewesen war.
So wurde die Erforschung der Imagination und ihrer tiefen Weisheit zu seinem Lebensweg
Eligio Stephen Gallegos ist Autor zahlreicher Bücher und leitet bis heute weltweit Workshops und Ausbildungen
Er ist Begründer und Geschäftsführer des Verlagshauses Moon Bear Press sowie Mitbegründer und Ehrendirektor des International Institute for Visualization Research (IIVR), das im Bereich der geistigen Bilder forscht
Veröffentlichungen u.a.:
- Indianisches Chakra-Heilen: Der Persönliche Totempfahl-Prozess
- Little Ed und seine Reise zu den Tieren der Kraft: Eine indianische Einweihung
- In die Ganzheit: Meine schamanische Reise zur Selbstheilung
- Den Schamanen in sich entdecken
- Animals of the Four Windows: Integrating Thinking, Sensing, Feeling and Imagery
- Something is Something (Stories for the Inner Child, Band 2)
Eligio Stephen Gallegos (aka Steve) was born in NM, USA, in 1934. Of Native American, English and Irish descent, Steve was raised in the local Hispanic culture speaking both English and Spanish. A gifted craftsman he was involved in woodcarving, leatherwork, silverwork, and drawing and painting from an early age and greatly disliked the confinement and regimentation of school even though he was a intellectually gifted student.
After military service, he completed his Ph.D. in Psychology at Florida State University. He taught at Mercer University, Macon, Georgia between 1967- 1981. After fourteen years as professor of psychology in Macon, GA, Steve undertook a residency in psychotherapy in the State of Oregon and became a practicing psychotherapist. While in Oregon, Steve underwent a spiritual experience that changed him profoundly. This experience is described in The Personal Totem Pole Process (ISBN 9780944164099). He describes the experience as "spontaneously meeting the alivenesses that were rooted in my energy centers and that presented themselves primarily as animals, but they had to be approached through the knowing of the deep imagination. I realized that the teacher I had sought for my entire life was in fact deep within my imagination and had always been there." Since then, introducing people to their own inner animals and the rediscovery of the wisdom of the imagination, has been his path in life.
For over 30 years, he has taught people how to access their wholeness through developing a relationship with their deep imagination. Steve discovered and developed the Personal Totem Pole Process® as a way of meeting the inner animals and beings of the deep imagination. Through his books and writings, he has explored many healing aspects of the deep imagination. He holds that one of our major challenges is to return to balance between the ways of knowing, so that Thinking, Sensing, Feeling and Imagery are once again fully available to each of us, both for our own growing and the world's wholeness.
At present he is primarily engaged in offering workshops and in training others in the exploration of the deep imagination in the United States, Ireland, Germany, Austria, France, Denmark, the Czech Republic, Macedonia, Portugal, and Australia.
Web: esgallegos.com
Web: moonbearpress.com
Kontakt: info@esgallegos.com
USA Website with information on workshops and trainings: deepimagery.net
Deutschland, Verein für Tiefenimagination: tiefenimagination.com

Du möchtest dauerhaft Zugang zu allen Experten-Interviews?
Sichere Dir doch schon jetzt das  gemeinsam heilsam - Online-Kongress-Komplettpaket.
Mit exklusivem Bonusmaterial der Referenten – JETZT zum Aktionspreis!